In der zweiten Hälfte des Oktober findet im Kloster von Lho Ontul Rinpoche an dem heiligen Ort Tso Pema das 8. Oddiyana Retreat statt. Anschließend ist es möglich an einer Pilgerreise nach Kushinagar, Shravast, Varanasi und Bodhgaya teilzunehmen. Nähere Informationen folgen nun in englisch:
Itinerary and Booking details
20/10/2018 – 26/10/2018
Dechen Shindrup, Accomplishing Sukhawati
Dechen Shindrup Phowa, Transference of consciousness
Chod, Cutting through the ego
27/10/2018
Smoke puja at Guru Rinpoches cave in the morning and depart for Delhi in the evening.
(Volvo Bus or Taxi from Tso Pema, Tickets can be booked when you arrive for the retreat on 20/10/2018.)
Teaching at the monastery is free for everyone, however any amount of offering and donation for Rinpoche las and monastery is highly appreciated. No-one will be turned down from the retreat due to lack of funds. English translation is available.
The cost of rooms and food at the monastery is minimum and reasonable.
STAY

A. Guests rooms
Top rooms with attached bathroom – Rs. 500
(no. of rooms available – 5)
Rooms with Common bathroom – Rs.300.
(No. Of rooms available -2)
Smaller rooms with common bathroom – Rs.200
(No. Of rooms available – 4)
B. Retreat rooms (all rooms with attached bathroom)
Standard rooms – Rs.600
(No.of rooms available – 9)
Big rooms – Rs.700
(No. Of rooms available – 2)
FOOD
Fresh and hygiene food will be prepared at the monastery kitchen. Three to five different varieties to be served for Breakfast, Lunch, dinner with hot and cold beverages and Tea break with snacks.
Rs.700 per day, per head
Send the following, by mail
Name : ___________________
Which room would you like to book (Arrival and departure date) : _________________________
Whether you will be having food prepared at monastery : ________________________________
Contact Mr. Aka to book accommodation and food at the monastery, Kindly confirm your booking by sending half the total amount.
email: aboaka@gmail.com, phone: 9805999221
HDFC Bank
Distt. Mandi 175001, Himachal Pradesh, India
Account holder : Konchok Aka
Account no. : 50200032372382
IFSC code : HDFC0000727
28/10/2018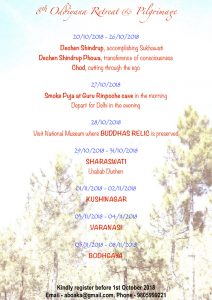 Arrive Delhi in the morning and visit National Museum where Buddhas relic is preserved. (Travel agent will provide us luggage room and a washroom facility but if you require a room then Kindly book separately with our travel agent.)
The pilgrimage tour will be managed by our travel agent.
1. Food, Accommodation, Transport and a tour guide for 130$ approx. per head, Kindly contact Mr. Tenzin from Earth Link Tours & Travels to book and confirm pilgrimage tour and send me a copy as well.
Earth Link Travels contact :
phone: +91 11 64727411, +91 11 65023430
email: info@eathlinktravels.com
28/10/2018 – Depart for Sharaswati in the evening from Delhi by Volvo A/C Bus
29/10/2018 – Arrive at Sharaswati
30/10/2018 – Rest and visit holy places
31/10/2018 – Lha bhab Dhuenchen at Sharaswati presided by HH Drikung Kyabgon Chetsang Rinpoche
01/11/2018 – Depart for Kushinagar
02/11/2018 – Visit holy sites
03/11/2018 – Depart for Varanasi
04/11/2018 – Visit Holy sites
05/11/2018 – Depart for Bodhgaya
06/11/2018 – Visit Holy sites
07/11/2018 – Visit Holy sites
08/11/2018 – Depart for Delhi. (Bodhgaya is last stop of pilgrimage)
2. From Bodhgaya, book your tickets separately with travel agent depending on your travel needs. (flight or train)
3. And tickets from Delhi to Tso Pema. (bus or taxi pick up)